This is what I see from where I sit in life. From the era and country I've been born, the city where I was raised, the heritage of those before me, the parents who carefully raised me, to my own dearly loved family; this is what I see:
I see men working hard to provide for children they adore and wives they love.
I see women who push through fatigue to intentionally build into the lives of little ones they raise.
I see children loved, growing, thriving.
I see friends earnestly seeking time to soak in the presence of a Holy God. Seeking to know Him, Love Him, Trust Him, every day.
I see women leading other women into a life more free of anxiety, self-focus, sadness, trauma, anger; into a life more full of grace, healing, joy.
I see teachers, their eyes shinning with love for students, energetically guiding with wisdom.
I see a couple who made a
major
lifestyle change start a
food pantry
to serve the needy in my community. I have seen them labor with their hands till they bleed for people who are struggling to feed their families.
I see pastors leading churches into what it really looks like to do justice, love mercy and walk humbly with our God.
I see organizations filled with
compassionate people
diligently working (and succeeding) to release children from poverty in Jesus' name in holistic ways--meeting their physical, emotional, social, spiritual and educational needs.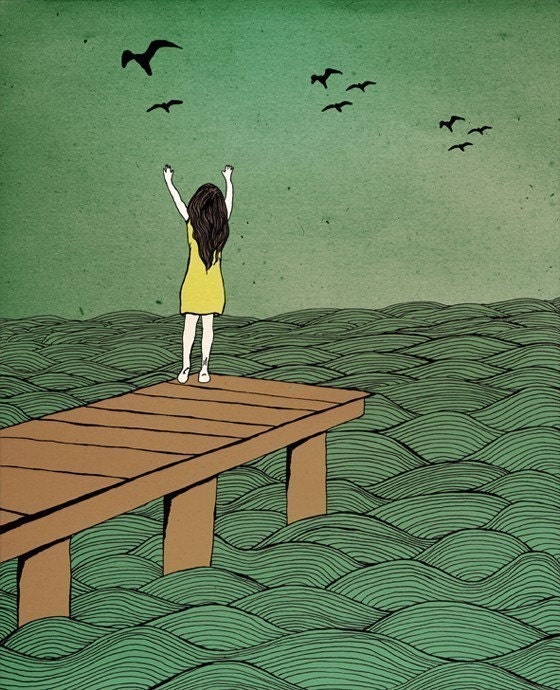 Of course, some days (or seasons) I'm half-blind to the surrounding goodness and instead see minor inconveniences looming bigger than they are. I see the distance between where I am and where I want to be like a gaping chasm. Or I get stuck in my own tiredness, irritability or selfishness. Or I see the news. (Enough said on that one.)
But
right now
I am seeing the good in a big way and feel like declaring it and letting my mind stay there for a bit.
I am feeling the weight of goodness surrounding me like a cozy blanket from where I sit in my space and time of life. I see shiny happy people holding hands. Go ahead, sing it... :)
What goodness do you see in your city, time, place? I'd love to hear about it!
**Be sure to check out the artist's page on etsy: http://www.etsy.com/shop/shirae. Don't you love her illustrations?!